NOW HIRING
COME JOIN OUR TEAM
see our employment tab for more info.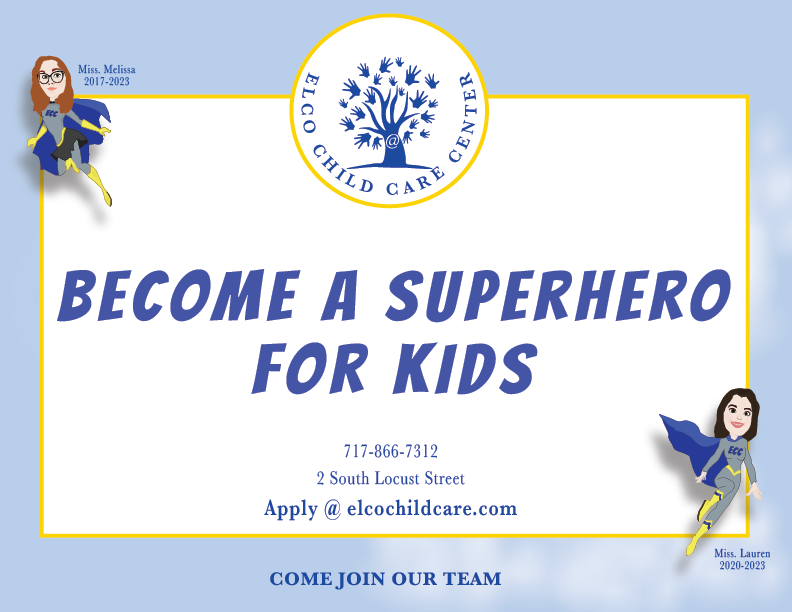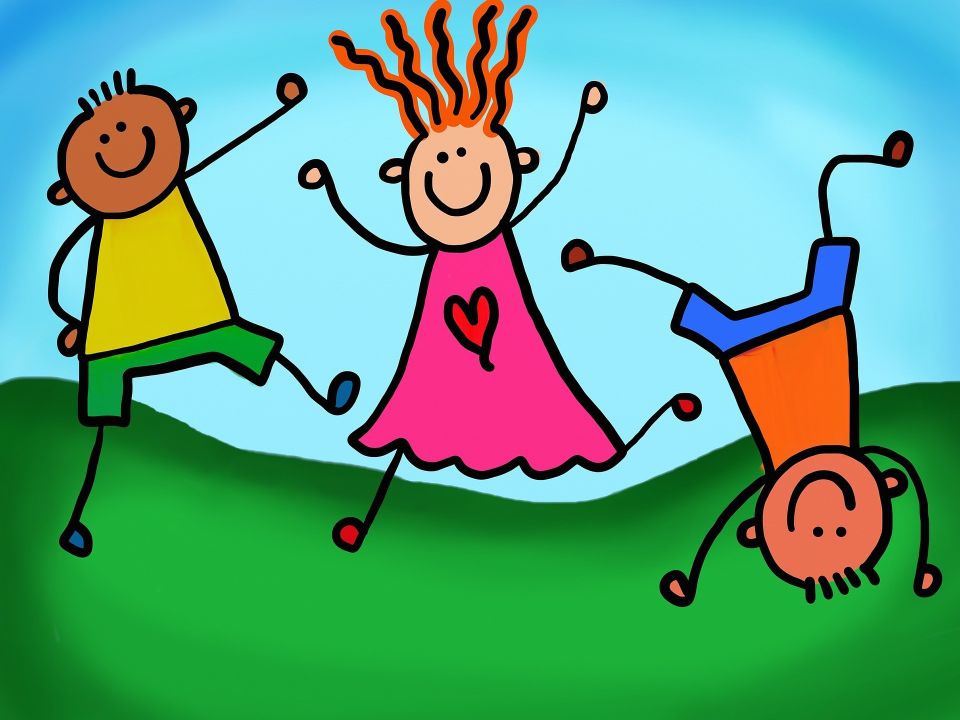 PRE-REGISTRATION LINK
New Families Only
WHAT MAKES Elco Child Care UNIQUE?
1)     Montessori Preschool Curriculum, unlike any Curriculum in Lebanon County! 
(See Parent Handbook for more details)

2)     Hands-on activities for your Active Child with a Strong Emphasis on Problem Solving.

3)     Lower Rates because we are Privately Owned. Average of $34  daily (Preschool Full-time).

4)     Owner Bonding with families.

5)     Packed Lunches for your Picky Eater.

6)     No Extra Costs for Families using over 10hrs daily.

7)     Open ON TIME in Inclement Weather when Schools are closed.

8)     Natural Playground and Large Indoor Gym

9)     Close to 422 for Easy Drop Off / Pick Up.

10)  ELRC Families Welcome. Call 717 274-6552 to see if you qualify.

11)  Kind, Loving, Experienced Staff with Degrees/Certificates in the Early Childhood Education Fields.

12)  Owners have over 36 YEARS of Experience Running a Professional Child Care Center.
MONTESSORI DAYS FEB 27th - MARCH 31st
Intro to Animal Habitats ( Feb 27th-March 3rd )
Spring-Intro to Habitats of the World
Polar, Tundra, Forest, Grasslands, Desert, Ocean

Animal Habitats ( March 6th-10th )
Life in a Cave-Animal & Plant Life
Life in a Woodland/Forest-Animal & Plant Life
Life in a Grassland/Savanna-Animal & Plant Life

Animal Habitats Cont. ( March 13th-17th )
Life in a Pond-Animal & Plant Life
Life in the Ocean-Animal & Plant Life

Amphibians ( March 20th-24th )
What are Amphibians?
Amphibians in our State
Amphibians of the World

Reptiles ( March 27th-31st)
What are Reptiles?
Reptiles of our State
Reptiles of the World

Important Dates/Holidays
March 12th Daylight Savings
March 17th St. Patrick's Day Celebration
MONTESSORI DAYS APRIL 3RD-28TH
Birds (April 3rd - 7th)
Wings and How Birds Fly
 Types of birds- Birds of prey, songbirds, night birds, water birds, sea birds, flightless birds.
*FRIDAY APRIL 7th DAYCARE IS CLOSED*
Birds Cont. (April 10th - 14th)
 Hatching Chicks
 Birds of North America
 Birds of the World
Asia (April 17th - 21st)
The Continent of Asia
 China- Inventions, Notable People, Historical Sites/Landmarks, Languages, Cultural Practices, etc.
 Southwest Asia- Countries, Inventions, Notable People, Historical Sites/Landmarks, Languages, Cultural Practices, etc.
 Earth Day
Asia Cont. (April 24th - 28th)
Japan, Korea, India, South Asia, Tibet
 Countries-Inventions-Notable People-Historical Sites/Landmarks-Languages-Cultural Practices, etc
Important Dates/Holidays
Friday, April 7th GOOD FRIDAY -
DAYCARE IS CLOSED
Sunday, April 9th, HOPPY EASTER!
Saturday, April 22nd, EARTH DAY
Welcome to our
PEACEFUL CLASSROOM

Children work together to create a safe environment to expand their world and to experience a sense of community in the classroom. To gain a sense of caring for their classroom and everything in it.
Create classroom rules.

Intro to:
Grace & Courtesy

Daily Schedule & Lesson Plans/Circle Time
Montessori Education & Tray Activities
Language: Letters-Phonics-Reading
Sensorial: Color-Shapes (using their 5 senses)
Math: Numbers-Number Combinations
Basic Skills: Cutting-Gluing-Crayoning-Painting

Peace Table & Sharing
See our Gallery tab for more photos of our Curriculum in Action